Golden West Offers Pumpkin Spice Internet in Honor of Fall!
Autumn is synonymous with waning daylight, cooler temperatures, and an explosion of pumpkin spice everywhere you turn. Once September arrives, everything from coffee and cookies to ravioli and beer is available in a pumpkin spice flavor.
You might be surprised to learn that pumpkin spice dates back centuries. Oh, and by the way, it doesn't actually contain pumpkin.
Coffee Giant Starts a Trend
It's hard to imagine a time when pumpkin spice didn't dominate the shelves and display cases of seemingly every grocery store and coffee shop in South Dakota from Labor Day to Thanksgiving. Believe it or not, the spice blend wasn't always so synonymous with fall. Prior to 2003, we were most likely to associate the season with football games, homecoming celebrations, and leaves changing color. But that year, Starbucks set the wheels in motion with the introduction of the pumpkin spice latte.
The PSL, as it is known to its legions of devoted fans, was limited to 100 stores in Washington D.C. and Vancouver, British Columbia, upon its initial release in the fall of 2003. Consumer response exceeded all expectations, and the drink was added to the seasonal rotation at all Starbucks stores the following year. Some 424 million cups later, the PSL is the coffee chain's most popular seasonal beverage.
Sensing an untapped market, other companies jumped on the bandwagon and began selling pumpkin spice flavored products of their own. These ranged from the mundane, like muffins and yogurt, to some truly out-there offerings. The more unique pumpkin spice products include cheese, cough drops, Peeps, hard seltzer, and even cat litter.
Please don't eat that last one.
Not surprisingly, many believe the pumpkin spice trend has gone too far. But before heaping scorn on Starbucks, you might want to blame early American settlers instead.
Pumpkin Spice Gains Popularity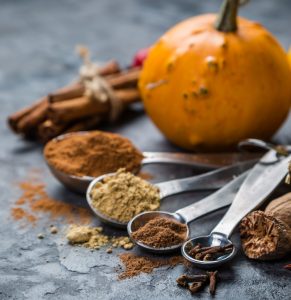 Native to North America, pumpkin was a popular ingredient in indigenous cooking for thousands of years. American colonists started making pumpkin pies as far back as 1620. These early concoctions featured stewed pumpkin, milk, and honey, and were cooked in hollowed-out shells placed over hot ashes.
Pumpkin spice, by the way, rarely includes pumpkin. It's typically a blend of cinnamon, ginger, nutmeg, allspice, and cloves — ingredients traditionally used to flavor pumpkin pie. When the Dutch East India Company took over the Spice Islands of Southeast Asia in the early 17th century, they created a similar spice blend. It eventually made its way to the New World and was a featured ingredient in a pumpkin pie recipe that appeared in Amelia Simmons' 1796 cookbook American Cookery.
The first modern recipe calling for pumpkin spice was printed in the Washington Post in 1936. The pumpkin spice cake was labeled a "Delicacy Tempting to All Appetites and Easy to Prepare." Ease of preparation was a theme at the time; spice companies like McCormick came to the aid of busy cooks by creating "pumpkin pie spice" (later shortened to pumpkin spice) that decade. Initially reserved for desserts, home cooks began branching out and using pumpkin spice in savory dishes such as soups and stews.
In the 1990s pumpkin spice expanded beyond foods when a store in Santa Fe, New Mexico began selling pumpkin spice candles. And while Starbucks gets credit for igniting its popularity, independent coffee shops in Tampa, Las Vegas, and Allentown, Pennsylvania were jazzing up their coffee with pumpkin spice as early as 1996.
Starbucks does score points for thoroughness in testing. Their research and development team sampled pumpkin pies topped with espresso shots to get the flavor combination just right. Once they figured out the tastiest ratio of cinnamon and nutmeg to coffee and steamed milk, the PSL was born. And the rest is history.
Take Advantage of this Spicy Fall Promotion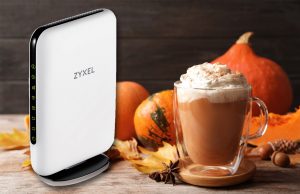 If it seems like there is no end to the pumpkin spice madness, take a deep breath. Golden West is rolling out a fall promotion and offering pumpkin spice internet! Now through the end of the month, customers who add internet service will be able to surf the web while enjoying the rich, warm scents of cinnamon, nutmeg, ginger, and allspice!
OK, not really. Sign up for internet service or upgrade to a faster speed (if available in your area) before September 30 and you will get a one-time $60 bill credit provided you keep your service for six months.
Think of all the pumpkin spice products you can stock up on with that extra money in your pocket!
Call 1-855-888-7777 or visit goldenwest.com/eveninternet to add or upgrade your internet service and take advantage of this great fall offer! Pumpkin spice sold separately.
(Golden West does not endorse any product or service it does not sell.)
Sources: Some information for this article was provided by online articles from Food and Wine, Better Homes & Gardens, and Chicagoist.com.