Colt's Nuts & Bolts – not your average small-town hardware store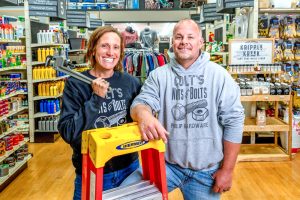 Looking for a new refrigerator? A new oven? Have you considered shopping at Philip Hardware – Colt's Nuts & Bolts?
That's right, in Philip you can not only buy nearly any appliance you need at Colt's Nuts & Bolts, but you'll also be first in line if you ever need a service call. The same can't be said of the big box stores people often rely on, says Colt Fitzgerald, owner along with his wife, Erin, of Philip Hardware, Colt's Nuts & Bolts.
"The people who buy from me … they're buying more than the appliance," says Colt. "Bigger stores deal in volume so we might be $50 or $100 higher but like a guy said to me recently, 'I know you'll come to fix it if we ever have problems,'" Colt says.
The Fitzgeralds, both natives of Philip, purchased the Philip Hardware store in 2015 from long-time owners Jerry and Pam Ingram. Colt had worked previously as an electrician apprentice in the community but was working on his dad's ranch 30 miles north of Philip when the couple made the decision to buy the store.

Family affair
The final decision was largely inspired by family. The couple wanted a business where they could involve their children.
The couple has four children – Claire, 6; Carter, 12; Mia, 15; and Gracie, 18. Carter works at his parent's store and the couple jokes that Claire runs the place. "We call her the store manager," Erin says.
Since buying the business, the Fitzgerald's have invested heavily in both time and space, adding more than 1,600 square feet to the store. "And we need a bigger store now," Colt says.
Lots of appliances
Colt and Erin said they made a conscious decision to expand the line of products at the store, from appliances to tools and outdoor supplies. They want to be a full-service hardware store, one where customers can find what they need without having to drive to a larger city.
"We really dove off in the appliances. We sell a lot of appliances and I do a lot of appliance repair," Colt says. "I also get a lot of bids and bid against businesses in Rapid City and Pierre."
As for service calls, the store covers a wide swath in the state, reaching as far as White River, Murdo, Faith, Pierre and Rapid City.
The couple says the surrounding community members have proven to be their greatest supporters. Locals shop at Colt's Nuts & Bolts and support the business as much as possible, they say.
"Definitely we wouldn't be successful without them to support us," says Erin. "The surrounding area is just so good to us. Everyone is really supportive of one another."
High-speed internet helps
From the start of their new venture, the Fitzgeralds have relied on Golden West's services to make their business possible. It was an easy decision for them. "I've known nothing but Golden West my entire life," Colt says.
Erin, who manages the store's website, feels especially grateful for the high-speed connectivity that Golden West provides the store through its fiber optic lines. Having the reliability and speed of Golden West means the store can be competitive in a very competitive market.
"It's crucial. The faster we can get our prices and research done for the customers the better." Without the Golden West reliability, customers would simply go "price checking somewhere else" Erin says. And that could mean a lost sale. "We're very fortunate to have what we have with Golden West."
For Colt, having service techs in the community who can be easily reached means the world. "I can't imagine having to call and talk to someone from India or somewhere to fix something," he says. "I just call … and you know everyone.
"That's what, for me, makes Golden West special."