Many visitors have explored the subterranean labyrinth of Jewel Cave … but few have descended 324 feet into the cavern while perched atop an elevator. For Golden West Network Technician Brian Voss, it was all in a day's work.  
"The telephone people get to see all the behind-the-scenes stuff," he explains. "Some of the most interesting things occur there."  
National Park Service Approves Elevator Upgrade 
Brian and Network Technician Tim Sexton (shown in photo to left) got to enjoy the unique vantage point from atop the elevator while working on a recent project at Jewel Cave National Monument. The National Park Service needed to upgrade the elevator shaft as part of an ongoing modernization project at the cave. Installed in the 1960s, the shaft had undergone little maintenance in the intervening decades — and its age was beginning to show. This was inevitable due to the cave's humid environment.  
 "Nothing big had been done in the shaft over the years," Brian says. "The original anchors and steel beams were still there but starting to rust out. It was time for an overhaul."  
After patching deteriorating concrete, the next step involved installing new steel beams. This required dismantling the entire shaft and constructing a new hoist room. Construction crews also had to contend with Golden West telephone lines, which had been placed in the shaft in the early 1980s to provide service to the park.  
That's when Brian and Tim were called in.  
Golden West Installs New Cables and Equipment
Copper telephone cables were installed through an outside entrance to the cave known as "the portal," which also doubles as a maintenance shaft/emergency exit. From there, the cable was strung over rock and through the tunnel and up the elevator shaft to an equipment room.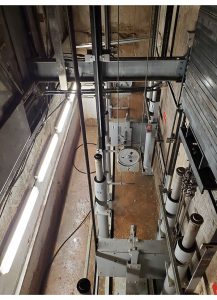 "The telephone room was clear up in the penthouse, per se, above the elevator shaft," Brian says. "That's where all the cable and phone equipment ultimately ended up."
In addition to removing and replacing the equipment, new cable had to be run through the shaft. This required careful coordination with the contractors working on the steel beams. Not only that, but all materials had to meet Jewel Cave National Monument specifications: everything in the shaft had to be non-corrosive.  
"We went with all stainless-steel brackets, nuts, bolts, and hardware anchors," Brian explains. "Stuff that is not going to rust."  
It sounds labor-intensive, but Golden West's physical work was completed in only three days. Brian, for one, appreciates the opportunity to be involved in such a special project. 
"It wasn't the physical work that was exceptional," he says. "Guys have been doing that for years. But we were down in a National Park cave. Not everybody can say they've had an opportunity to do that!"