Meet Ron Dyvig, a passionate astronomer who turned his Boy Scout experience into a lifelong dream. From gazing at the stars as a young scout to participating in NASA research, Ron's love for the cosmos knows no bounds. Alongside his partner Teresa, Ron invites you to join their astronomical journey at the Badlands Observatory.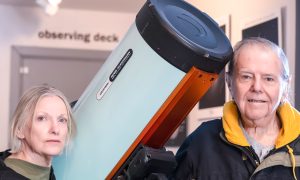 Ron Dyvig's love for astronomy began on a Boy Scouts camping trip in 1954 when his scoutmaster introduced him to the night sky.
"A fire ignited inside me that's remained with me my whole life," Ron recalls.
That fire grew into a lifelong dream to have his own research facility. Ron has been living that dream since he founded the Badlands Observatory over 20 years ago in the town of Quinn a few miles north of the Badlands National Park.
Ron was born in California but grew up in the Black Hills. He earned a degree in science at Black Hills State University and became a teacher. During this time, he got involved with amateur astronomy through the Black Hills Astronomical Society and discovered his love for telescope making. He also conducted research at the University of Arizona.
In pursuit of his dream, Ron turned the abandoned hospital facility in Quinn into the Badlands Observatory where he built a 26-inch Newtonian Reflector telescope. According to the observatory's website, "first light was achieved on one of the largest fully computerized telescopes in a four-state area on May 27, 2000."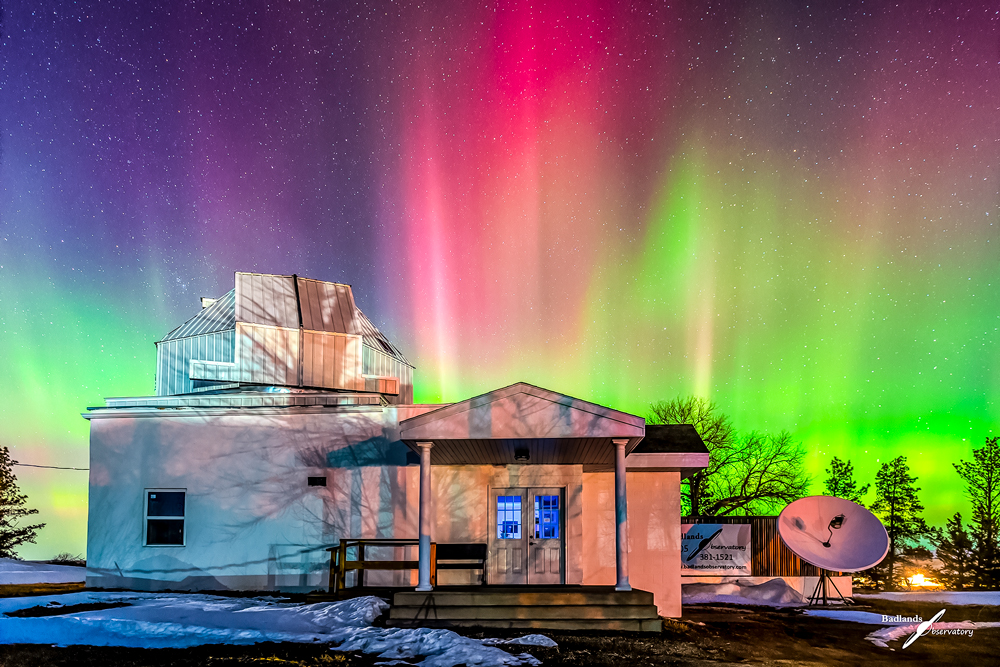 Ron established the Badlands Observatory to design and operate a telescope for NASA's Spaceguard program. This program mapped and collected data on the orbital elements of asteroids, particularly those with orbits crossing Earth's path. The goal was to identify potential hazards to help protect humans from suffering the same fate as dinosaurs.
Ron dedicated 10 to 12 years of overnight research to the NASA Spaceguard program. Ground-based observatories like the Badlands Observatory provided accurate measurements and mapping of these asteroids.
Dreams turn into reality
Today Ron operates the observatory with his partner Teresa Hofer. Years ago a mutual friend introduced Teresa to Ron's work. The couple opened the facility to the public in 2021.
The facility attracts locals and tourists with Ron's renowned NASA research, his numerous awards and recognitions, and breathtaking telescope views of galaxies and star clusters. Teresa contributes her captivating astrophotography, including mesmerizing images of the Aurora Borealis.
"The whole idea of this person alone in Quinn, South Dakota, night after night doing these observations for this NASA research was incredibly interesting," Teresa says. "Ron also got me into photography, which led to astrophotography."
Ron's journey of having his own research facility and Teresa's passion for astronomy and a tourism business came with challenges along the way. A fire in 1998 caused severe damage to the observatory and destroyed Ron's telescopes. Still, Ron and Teresa made their dreams a reality.
"We fantasized for many years about having the observatory accessible to the public," Teresa says.
Year-round day and night tours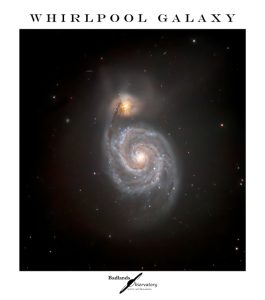 Ron and Teresa offer daytime tours year-round, weather permitting, where tourists can use telescopes equipped with solar equipment. At night, Ron and Teresa conduct stargazing tours. They set up nine telescopes on their spacious 2,500 square-foot back deck to display deep sky objects like galaxies, nebulae, star clusters, and planets.
Part of the experience involves a satellite dish previously operated by Golden West. Ron and Teresa inquired about the retired dish, and Golden West donated it for their research. After moving the dish to Quinn and repairing it, the couple transformed it into a radio telescope and named it "Golden Ear" in honor of the cooperative.
This telescope allows people to observe and hear radio emissions from the Milky Way Galaxy. The emissions are then converted into graphical representations displayed on a computer inside the facility.
Additionally, the observatory collaborates with Dr. Craig Howe from the Center for American Indian Research and Native Studies to present on Lakota star knowledge. The presentations share stories passed down through indigenous culture.
Golden West service helps with success  
Ron's outstanding work has earned him prestigious awards and recognition, including acknowledgements from NASA. The observatory proudly displays a wall dedicated to the numerous media stories dating back to 2000 that highlight Ron's research and achievements.
Ron and Teresa are grateful for the services they receive from Golden West. The broadband internet connection allowed Ron to participate in NASA programs and contributes to the success of the Badlands Observatory tourism business.
"Over the last 20 years, the cooperation in establishing high-speed internet service here has been fundamental to the whole operation," Ron says.