Legendary Airbrush Artist Leaves Mark on Menno
Mickey Harris is considered both a pioneer in the practice and one of the country's best airbrush painters – and he lives in Menno, southwest of Freeman.
"I'm one of the grandfathers of airbrush painting," he says. "Anybody that's in this business knows who I am, that's for sure. I've kind of got legend status."
Anyone who's driven around Menno has experienced his work, as well. His art can be seen on countless signs and in murals on the sides of buildings all around town.
Getting Started Young
Harris honed his art skills early. His second-grade teacher pointed out his knack for drawing to his mom, which led to private art lessons as a child. He started airbrush painting professionally at the age of 19.
"The airbrush is a tool that allowed me to start making a living as a young kid by painting t-shirts on the beaches in Florida," he says. "I would do that all summer season and then in the winter go do bike shows and paint cars and whatever we could get."
Over the past 43 years, he's painted many detailed scenes on all kinds of surfaces both on canvas and beyond, including automobiles, motorcycles, aircraft, buildings and silos.
He's also written books, recorded videos and conducted seminars to teach others the skill of airbrush painting.

Coming to Menno
Harris came to Menno for the first time in 2009 to paint a car for a client of the local auto body shop. It was just six days of work, but he stayed for six weeks and made several return visits. He and his wife became permanent residents in 2012.
"We lived for more than 20 years in the Smokey Mountains of Tennessee, which is a gorgeous place, but the crime levels are just horrible there," he says. "Our kids were all grown, so we decided we wanted to live in a smaller community, more in line with our values and with a slower pace."
When locals ask why they moved to Menno, Harris says, "I don't think you people know how good you have it."
Happy to Stay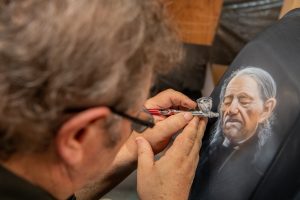 Harris communicates with potential clients all over the country online. He also uses his internet connection to regularly conduct photographic research for accuracy. He's already traveled extensively, and now he's content staying in Menno.
"I have access to people in a small town who can do world-class work," Harris says of the men who own Classic Collision & Framework. "I also have good friends here that I've developed over the last eight years."
Harris' son moved to Menno from Tennessee, as well, and has his own construction business. He recently built a new one-level home for his parents.
"Now I want to sit in Menno for the rest of my life and do the work that comes my way and maybe paint a few masterpieces."
Patriotic Projects
As the son of an Air Force fighter pilot, patriotic scenes honoring veterans are Harris' specialty. "I tell the story in pictures," he says.
Among his many artistic projects, Harris has painted:
• Artwork on display in the Pentagon.
• A car for the Lone Survivor Foundation, established by decorated U.S. Navy SEAL Marcus Luttrell.
• Pat Tillman's 1969 Impala convertible on behalf of the Pat Tillman Foundation, which brought many of Tillman's football friends to Menno. Tillman left the NFL, joined the Army Rangers, was killed by friendly
fire in Afghanistan and honored posthumously.
• A memorial motorcycle donated by Harley-Davidson to celebrate the U.S.S. South Dakota submarine. The motorcycle is at the Sturgis Motorcycle Museum & Hall of Fame. Any sailor ever assigned to the sub
can ride the bike anywhere in South Dakota.
• A 1956 Thunderbird Congressional Medal of Honor tribute car that was displayed at the Gettysburg Battlefield where 25 medal recipients signed the hood.
• A vehicle promoting the General Motors military discount program each year.
• A firetruck Menno received from the New York City Fire Department that was at Ground Zero when the towers went down.
• And many, many more.
For more information, visit mickeyharris.com.