How to Manage Your Spam Filter and Reduce Inbox Clutter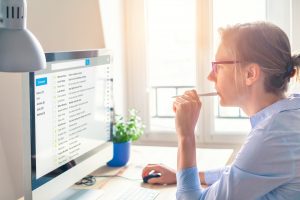 Cockroaches. Student debt. Those stubborn last few pounds. There are certain things you can never seem to get rid of no matter how hard you try. Eliminating spam may be another exercise in futility, but you can take steps to keep it manageable.
To help reduce unwanted email clutter, Golden West implemented a new spam filter on April 21. While the new platform offers robust protection, there are additional steps you can take to keep your inbox clean.
Spam is a Cost-Effective Scam
Golden West Internet Help Desk Supervisor Seth Engel knows all too well the frustration spam causes. He often coaches callers about the prevalence of spam and provides insight into why it has inundated virtually everybody's inbox.
"Regardless of whether the intention of the spam message is advertisement, or something more malicious, like identify theft, sending spam messages is an extremely cost-effective method for its producers," Seth explains. "It doesn't cost any more to send 50,000 emails than it does to send 50, so even if only a few recipients fall for the scam, it makes it worth their while."
Seth also dispels the myth that spammers are loners cloaked in the dark.
"In the vast majority of cases, it is not some lonely person in their parents' basement, but large companies in foreign countries producing this content," he says. "They have the knowledge, resources, and motivation to focus efforts into finding ways to get around spam filters and into our inboxes."
Help Desk Shares Spam FAQs
The Golden West Help Desk receives queries about spam every day. The most common FAQs include:
I think this message is a scam or spam. How do I know?
Trust your instincts. If you suspect the message to be a scam, it probably is. The SLAM method helps make spam easier to spot.
Sender: Does the email address match the company it is purportedly from? Is it spelled correctly?
Links: Does the email contain links that it wants you to follow? If you hover over the link with your mouse, does the website look familiar?
Attachments: Attachments are one of the main ways scammers install malware on your device. If you receive an email with an attachment from an unknown sender, and you did not request it, do not open it! Spammers often rely on your curiosity to get the better of you.
Message: Is the message asking you to reply with personal information, or username and password information? Legitimate companies never request that over email.
How did spammers get my email address?
Golden West keeps all customer email addresses private. Spammers utilize different methods to obtain email addresses:
Your address may have been purchased or stolen from a website or company where you willingly provided it. There is often a clause in the terms of service agreement that allows them to share your email address with sponsors. Even if the company does not share your information, or you opt out of sharing that information, a data breach for that company means your email address may end up on dark web markets.
If your email address is posted on a website, such as a contact page, it is vulnerable to being "scraped" by programs created to search the internet for anything containing the @ symbol.
Some companies randomly generate email addresses using known domains, and then try common words that people might use in an email address. Most of those addresses don't exist and the emails go nowhere, but they may have just been lucky in generating yours.
How does the spam filter determine what is spam/phishing/malware?
Spam filters utilize analytics to look at several variables to determine the "Spam Score" of an email — in other words, the likelihood that an email is spam. While they don't read the subject or body of an email, they do look for specific words or misspellings, as well as links, attachments, and file types.
Legitimate messages sent by real people also receive a "Spam Score." The only way to prevent legitimate messages from sources that have been inadvertently flagged, such as newsletter subscriptions, may be to unsubscribe, or add the sender to your blocked users list.
Button Up Your Account Manually
The spam filter does a good job, but no platform is perfect. Sometimes, manual intervention is required. This might take a few extra steps, but in the long run, it will help maximize the effectiveness of your spam filter. Taking control involves logging into webmail and clicking on "Mail Filter Help." Once there, you can complete the following actions:
Whitelist/Release emails from the filter:
Blacklist unwanted contacts:
Update spam digest frequency settings:
As always, the Golden West Help Desk is available 24 hours a day, seven days a week, 365 days a year, to help resolve any spam issues you might have. ­­You can reach them at 1-855-888-7777, option 1.