Horizon Health Care Serves
Rural Needs Across the State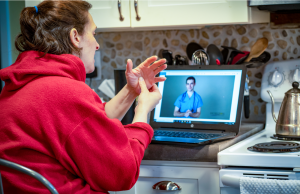 The year 1978 is most closely associated with polyester pants, Laverne & Shirley, and an endless stream of chart-topping disco hits by the Bee Gees. That same year concerned citizens in several rural South Dakota
communities formed Federally Qualified Health Centers (FQHC) to ensure continued access to health care.
In 1998 the citizen groups merged to form a single FQHC, Horizon Health Care, Inc. Today, Horizon provides medical, dental, and behavioral health care services to 22 rural communities across the state. With the addition of telemedicine, their reach continues to grow.
Removing Barriers to Care
Horizon Health Care Chief Development and Strategy Officer Lexy Eggert is quick to point out the sheer scope of the organization's range.
"We have one of the largest rural service areas as a federally qualified health center in the nation," she says. "We serve a 28,000-square-mile footprint, so we're kind of unique."
Until the early 2000s, Horizon Health Care provided medical services only. Dental and behavioral health followed. They record about 110,000 patient encounters annually in communities from Howard and Faith to Mission, Bryant, Plankinton, White River, and others. While not every clinic offers the full suite of services, there is one common denominator: each is located in a rural community where access to essential resources is often lacking.
"Horizon's mission is to remove barriers to care," Lexy continues. "One of those barriers may be where you live. Some of our more remote locations might not have a nearby hospital for two hours. So, we are there to ensure access to care."
Other barriers include transportation and affordable care. Horizon Health Care tackles these by offering sliding fee programs, discounted services to qualifying individuals based on annual income, and the newest component to their lineup: telemedicine.
Telemedicine Gains Popularity
Telemedicine gained popularity nationwide during the pandemic, but Horizon Health Care offered it long before COVID-19 became a household name. The strategic decision to offer telehealth enabled patients in communities without clinics to still utilize those services.
Chief Information Officer Scott Weatherill explains that telehealth has been part of the organization for a long time. "We've been involved in telemedicine since I started back in 2002, mainly providing access to specialty care services through larger health systems," he shares. "When the pandemic hit, even though we touted ourselves as being experienced with telemedicine, it was a whole new world. It was the first time we saw patients in their living room, on their iPad, connecting to our providers. We had to shift gears and leverage some of the technology we already had in place."
Telemedicine does have some constraints. Horizon's efforts primarily focus on providing behavioral health and acute care services; there's no way for providers to virtually put their hands on a patient, so they are limited to conditions that don't require in-person care. Despite this, patient response has been favorable.
Investing in Local Communities
Supporting local communities is a key mission for Horizon Health Care. "Health care is an important part of Main Street and keeping people local," Lexy explains. "It's like a ripple effect among the businesses. When someone goes shopping, they buy groceries, they get an oil change, buy gas, all those things. That's why it's important for us to remain in those local communities. That's something our CEO is very passionate about, as well — that we are an integral part, and we will continue to be committed to our rural communities and keeping them alive."
Those efforts include utilizing local contractors and businesses and recruiting local employees rather than contracting out. Telemedicine plays a role, as well.
"By connecting patients to a specialist we're saving them from having to travel," he says. "We're keeping them in the community in those situations, so they're not doing their shopping elsewhere. It ensures a lot of their business stays local — so, in a way, telemedicine has helped reinvest in the communities we serve."
Providing Additional Support
One of the programs Horizon has recently launched is the Horizon Health Foundation. The nonprofit organization was founded in 2016 to create a permanent funding base for rural patients in need.
"It's an opportunity to empower and inspire our patients, to invest in them, and to help Horizon continue to remove those barriers to care," Lexy says.
The Foundation supports programs like Smiles for Miles, which provides free dental care to children throughout the month of October. It's also played a crucial role in improving infrastructure and expanding technology. The Foundation approached several local South Dakota telecommunications companies, asking them to consider investing in Horizon's telemedicine program.
"Golden West and other telecoms have stepped up and invested in our telemedicine program to help offset expenses for the equipment we use for acute care and behavioral health services," Scott adds. "They've also helped on the larger capital investment side. We're greatly thankful for that."
The cooperative has helped in other ways … especially relating to infrastructure.
"Connectivity is important as it relates to transmitting patient information and delivering care via telemedicine technologies," Scott says. "We have several clinics in Golden West's service area, and connections are rock solid. It's been great service, too. I think Horizon's fortunate in that South Dakota has a great fiber footprint for a rural state. When I'm talking with CIOs in other states, they can't believe that even rural residents have fiber to their homes!"