When Ron and Trish Larson moved back to Philip after living in Cedar Rapids, Iowa, for 13 years, they had to readjust to small town life. Certain things they took for granted in a larger metropolitan area slipped their minds at first.
"Simple things like the dump," Ron explains. "It's not always open. Goofy things like that that you don't even think about when you're out there."
Even without the convenience of a 24/7 landfill, the Larsons don't have a single regret about coming home. They embraced their South Dakota roots and quickly became pillars of the community through volunteer activities and not one, but two, businesses.
Hometown Computer Services Diversifies
Ron and Trish, along with daughter Rehgan and son Trey, were featured in the September 2013 issue of Golden West's Horizons newsletter. At the time, Ron's computer sales and repair business — Hometown Computer Services (HCS) — had been serving residents from Murdo to Philip for four years. With technology constantly evolving, Ron says a lot has changed since then.
"I had to diversify," he says. "When you interviewed me back then, I was primarily computers. Now I'm getting into camera systems and security systems. The network stuff, I had always done that in wireless bridging, but not on the level I am now."
HCS also now offers more technical support than they did eight years ago. Ron was initially hesitant to add more services, but feedback from his customers changed his mind.
"Basically, they were getting what they were paying for," he says. "It was one of those things I went into kicking and screaming, but just listening to my customers was the best thing I did. Like a lot of things in life, sometimes you don't recognize opportunity until it smacks you in the face."
Coffee Shop Proves the Doubters Wrong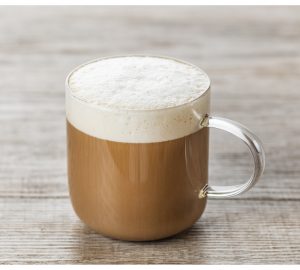 Sometimes, opportunity comes knocking when you least expect it. Trisha's mom, Kerry, had long dreamt of opening a coffee shop. Despite being told a coffee shop would never work in South Dakota — especially in Philip — she ignored the naysayers, teaming up with daughters Trisha and Jenny to open Ginny's in 2015. Getting that buy-in from the Larsons wasn't too difficult.
"We've loved coffee shops forever and they seem to be a little intertwined in our lives," Ron explains. "I love the atmosphere. Coffee shops have that really cool vibe. You walk in and you feel warm. The right coffee shop feels like home."
The family purchased a Victorian house on Pine Street, which Ron refers to as an "Easter egg house" thanks to its vibrant pastel color scheme. Built in 1912, they converted it into a coffee shop and proved the doubters wrong. In addition to coffee, they sell a variety of food — the breakfast burritos are especially popular — and even gifts, like t-shirts. Ron is happy to have proven the doubters wrong.
"People come off the interstate to have a cup of coffee because they heard from somebody in some other town that if you go through Philip, you have to stop for a cup of coffee at Ginny's," he says. "That's just cool."
Small Town Opportunities Abound
Without a doubt, South Dakota has been good to the Larsons. It's given their kids the chance to not only compete, but excel in, sports (cross country for Trey, gymnastics for Rehgan) — opportunities that might not have been the same in Cedar Rapids.
The coffee shop never would have happened in Iowa either. And for Ron, the move has allowed him to really connect with people.
"I get great satisfaction out of helping people around here," he says, "And I'm highly appreciated at the same time."
That extends to his interactions with Golden West.
"I work tight with Golden West and it's mutual," he continues. "If I run into something and tell the customer to call Golden West, they're not upset because I dumped it on them. They go above and beyond the call of duty because it's the small-town thing to do."