Greenhouse with unusual location and name supports other SD businesses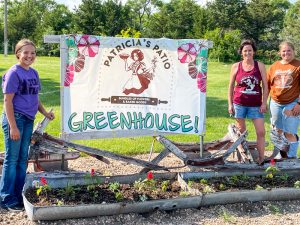 Travelers along SD Highway 73 may be surprised to come upon a greenhouse that sells flowers and serves baked goods 16 miles northwest of Martin.
In addition to its unexpected rural location with horses roaming alongside the highway, the greenhouse also has an interesting name. It's called Patricia's Patio and is owned and operated by Andrea Fanning.
The name Patricia's Patio pays homage to the ghost town of Patricia that once stood here. A tornado destroyed the town in 1953, but its existence lives on 70 years later through Andrea's memories, photos, and social media platforms. For example, her Snapchat messages are still geotagged as "Patricia."
Bringing business home
Originally from Patricia, Andrea earned an associate degree in retail merchandising and marketing management from Casper College in Wyoming. She then returned home and married her husband Jason. Together they raised four children ranging in age from 19 to 27. June 2023 marks their 28th wedding anniversary.
Andrea began her entrepreneurship experience in 2018 as co-owner of the Frosted Petal in Martin that served as a bakery, flower shop, and greenhouse. After the Frosted Petal dissolved, Jason moved the greenhouse to their home in Patricia.
At about the same time, Andrea also took classes to earn her certificate as a career and technical education (CTE) teacher. She teaches personal finance, nutrition and wellness, nutritional science, intro to human services and relationships across the lifespan, and is a senior class advisor for Bennett County High School in Martin.
She helps her husband throughout the year on the ranch, as well, all while running the greenhouse and finding time for her passion for baking in the night hours.
Small-town support
Andrea purchases plants that are already started for her inventory from a South Dakota wholesaler from Avon. Another business served by Golden West, the Mensch Greenhouse has over 50 years of experience.
"I believe that supporting another South Dakota business with such reputable plants helps my business," Andrea says.
In the coming years, Andrea would like to see Patricia's Patio grow and to continue to see other small businesses support each other.
"That's one of my biggest things is to help push the small-town businesses and support them," she says.
Overcoming challenges, reliable service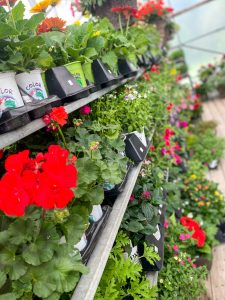 While it can be challenging to find employees, Andrea perseveres with help from her family. She credits her family's involvement and support for their collective achievements, which includes the business and their ranching endeavors.
When moving the greenhouse to her home, services posed another challenge. Thankfully Golden West offered a fiber optic high-speed internet connection even in a rural area like Patricia.
"I'd be walking around the yard trying to find service," says Andrea. "Finally, I called Golden West, and they came right out here to help me."
Andrea is thankful for her Golden West services. She uses them to advertise and do social media marketing for Patricia's Patio from the comfort of her home.