Get Your Email

 Like Your Burger and Fries

 

–

 

To

 

Go

 
What is free and user-friendly, allows accessibility from anywhere, and offers custom categorization? If you guessed webmail from Golden West, you are clearly on top of your email game! 
Two email accounts with webmail access are included at no extra charge for Golden West internet subscribers. Using webmail offers some impressive benefits over installing email on a specific device.  
A Brief History of Webmail 
As its name implies, webmail is any web-based email service that can be accessed online. All it requires is an internet connection and a web browser. It's a cloud-based alternative to using desktop email clients, like Outlook and Thunderbird, that require software to be installed on the user's computer or mobile device.  
Though email has been around since 1971, it wasn't until 1994 that a scientist at a European research organization called CERN developed the first web-based email client. The technology didn't move into the public sector until 1996, when Hotmail (fun fact: the name is an extended play on HTML) launched a free service that quickly gained popularity.  
Around the same time, a college student named Paul Buchheit was working on a web-based personal email software project. Buchheit joined Google after graduation, and his brainchild morphed into Gmail. Introduced in 2004, its initial exclusivity and abundant storage capacity made it highly popular, and webmail really took off after that.  
Access Webmail from Anywhere 
Today, many internet service providers — including Golden West — offer subscribers free webmail. Golden West Internet Solutions' Engineering Manager, Tad DeVries, understands the appeal of web-based email.  
"The most attractive feature of webmail is that it's available anywhere," Tad says. "You can access it on your smartphone, tablet, or computer from wherever you are. If you're visiting family, you can navigate to webmail.yourdomain.com in a browser and log into your account on their computer or tablet also." 
Best of all, webmail offers consistent access to email across multiple devices. You can see the same messages and know not just which ones you've read, but also see your replies. All of this without needing to understand POP3 vs IMAP protocols, which can be tricky. 
Webmail Offers Added Features  
Easy accessibility may be the key draw, but Golden West webmail has some additional features that subscribers find useful.  
"Another important function of webmail is the direct link to your quarantined messages in the Spam filter," explains Tad. "Once you log into your webmail inbox, that link can be found in the upper left corner of the page."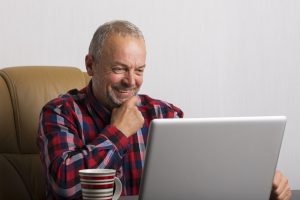 Webmail also allows you to create folders to categorize saved messages and customized contact lists of email addresses you wish to save for future use. In addition, you can see at a glance how much storage space you have left.  
How to Access Your Webmail 
Even if you ordinarily use an email client, you can still access your webmail anytime at goldenwest.com/webmail. Bookmark the page for quick return access. Log in using your full email address and password.  
Sources: Some information for this article was provided by online articles from Techwalla, BBC.com, and ComputerHope.com.