Former Hollywood Extra Keeps it "Reel" in Dells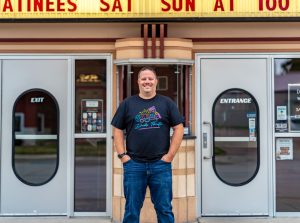 The first thing Brian Anderson does when sitting down to talk about the historic Dells Theatre is reach for his headshot. The glossy 8×10 depicts a smiling boy eager for his 15 minutes of fame. While his acting career was short-lived, Brian was able to turn a lifelong love of cinema into a career — much to the delight of moviegoers in Dell Rapids.
The eastern South Dakota community is a world removed from Tinseltown, but Brian fell in love with the area and never looked back.
"I came from a bigger city in California but moving to South Dakota and growing up here has been great," he says. "It's the small community vibe. Everybody knows everybody in Dell Rapids, and they're willing to help each other out."
Hanging with the Olsen twins and Screech
Born in Renton, Washington, Brian's parents moved the family to Moreno Valley in Riverside County, California, at a very young age. He and his siblings developed a love for television and movies and, encouraged by their parents, landed work as extras. Brian's acting credits include small roles as an extra in Saved by the Bell: The College Years, Full House, and the Arnold Schwarzenegger/Danny DeVito film, Junior.
"I did it for two years, and it was very cool," Brian recalls.
Tired of the high crime rate in Southern California, the Andersons fled the Golden State for South Dakota in 1995, originally settling in the Sioux Falls area. Though thousands of miles from the glitz and glamour of Hollywood, Brian never gave up his passion for movies. He landed a job working concessions at Century 14 in Sioux Falls during his senior year of high school, eventually parlaying that into an assistant manager gig. While attending college in Mitchell, he was hired as manager at a luxury theater owned by Jeff Logan.
"By the time I graduated from Mitchell Tech and got married, I was looking for part-time work," he says. "I found out that Jeff owned the Dells Theatre, and he got me hired on right away."
Tom Cruise gives Brian a boost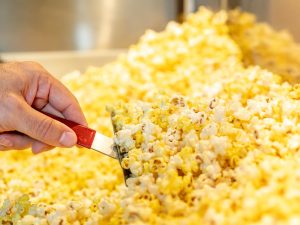 After managing the theatre for over a decade and living in Dell Rapids for eight years, Brian had an opportunity to purchase it when Jeff announced plans to retire. But the timing was less than ideal. Much to his surprise, that didn't faze his wife.
"When Jeff offered me the theatre, she said, 'At some point, I knew this was going to happen,'" Brian recalls. "'Not this early in life and not during a pandemic, but let's go for it!'"
The Andersons closed on the theatre in February 2021, but with COVID-19 in full swing, it was only open on the weekends and Tuesday nights (their $5 ticket bargain nights). Eventually moviegoers returned to the big screen and business was good. Earlier this year, it got even better thanks to a blockbuster sequel 36 years in the making.
"What really blew my mind was when Top Gun Maverick came out," Brian says. "Such a good movie, and the biggest movie for the last year and a half that I've been showing movies. That really helped the theatre out and I appreciated everyone who came to see it again and again!"
Choosing which movies to run is part art, part science. Brian consults a calendar of new releases, but that's often in flux. In Dell Rapids, the formula is pretty simple.
"It's got to be family friendly," he says.
In addition to movies, the Andersons rent out the theatre for birthday parties, friend/family nights out, and even have the capability for people to play video games on the big screen.
The movie-showing experience evolves
The movie experience hasn't just changed for audiences. Even the way films are shown has evolved, thanks to technology. Gone are the days of actual film; everything is digital now. A laptop computer runs the server/projector, which Brian can control remotely if needed. It's all automated, so he simply logs in and schedules a date and time for the movie to play. He can even control everything from his phone if he's away from his computer.
That's where Golden West comes into the picture. Not only is high-speed internet crucial for point-of-sale transactions — it's what gets those movies onto the big screen in the first place.
"Having Golden West is what we need to basically run," explains Brian. "We need that internet service to download our content and connect to the services that provide our movies. If we didn't have their services, we'd probably be going back to trying to find 35-millimeter film and old projectors!"
Check out our Meet the Owners Video with Brian Anderson of Dells Theatre in Dell Rapids: