Fiber Technology Where You Least Expect It
Rural west Edgemont area enjoys advanced broadband connection.
'We feel lucky to have fiber optics'
Sweet clover, sage brush, and bromegrass line the borrow pits along the two-lane ribbon of U.S. Hwy. 18 as it winds over hills, down draws, and around ridges west of Edgemont, South Dakota, into Wyoming. Ranching reigns supreme here with cows, round bales of hay, stock dams, and windmills outnumbering homes along the rural landscape.
"Our closest neighbor is seven or eight miles away, which is just awesome," says Toy Litzel, who lives on the state line. "I love that there are no people."
The southwestern corner of South Dakota and eastern edge of Wyoming is one of the most sparsely populated areas served by Golden West, with an average of only one subscriber every six square miles. As part of Golden West's commitment to provide high-speed internet access across its service territory, the cooperative completed a fiber to the home project here earlier this year.
The infrastructure in place before the upgrade wasn't conducive for internet service. Afterwards, the Litzels added Golden West internet service and took advantage of the fastest internet speed available to them.
"We love it," Toy says about the speed they receive over the fiber optic network. "We wanted to make sure we got the good stuff. When all the kids are here, they are all on their phones and everybody can be on the Wi-Fi, and it doesn't slow down."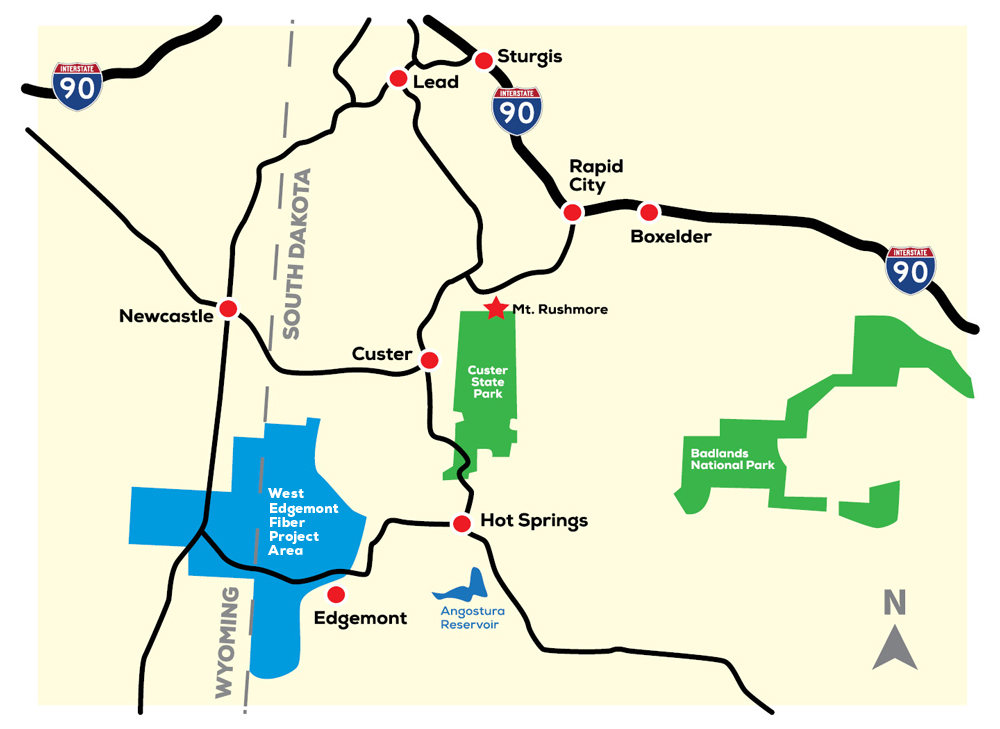 The recently completed west Edgemont project brought a fiber optic connection to more than 200 people living in 66 homes and to one essential community facility. The project involved 126 miles of construction covering 411 square miles. That means there is only one subscriber every six square miles here. Golden West is working to bring fiber optic technology to all areas it serves over the next five or six years. Today, more than 70% of members are directly connected via the fiber optic network.
ReConnect Grant Helps Fund Project
The United States Department of Agriculture (USDA) awarded Golden West a $1.7 million ReConnect grant in 2020 to help provide broadband service west of Edgemont. When awarding the grant, USDA Secretary Sonny Perdue likened the need for broadband connectivity in rural America to the need for electricity and telephone services decades ago.
"The ReConnect grant covered almost half the cost of the project," says Golden West General Manager and CEO Denny Law. "The extra funds brought much needed connectivity years ahead of schedule to the 200-plus people in this area."
The Rural Electric Association first offered electricity west of Edgemont in the 1950s. Phone service was available from Northwestern Bell and later the People's Telephone and Telegraph Company of Hot Springs before Golden West took over in early 1982. Four decades later rural residents here have dedicated fiber optic lines delivering the most advanced broadband connection available today. This connection is better than what residents of many larger cities have, including the largest cities in western South Dakota.
From Homestead to Fiber Optics
"We never dreamed we'd ever see fiber optics out in our part of the country, because of the lack of population density," says Clyde Bayne, one of Golden West's few subscribers in Wyoming. "I thought, 'They're not going to come out this far for a half dozen homes.' But they did, and we are pretty happy about it. We feel lucky to have fiber optics."
Clyde's great-grandparents homesteaded along the Cheyenne River in Wyoming 100 years ago midway between Edgemont and Newcastle, Wyoming. Clyde and Nancy took over the ranch about 30 years ago. The
couple raises Red Angus/Charolais cross cattle and continues adding to the operation. Clyde also works as an insurance agent and Nancy works for the U.S. Forest Service, both out of Newcastle.
"We tried dial-up internet in the early 1990s," Clyde says. "It would take an hour to download an email and then it would usually lock up."
Fiber Optics Beat Satellite
The Baynes went with satellite internet after that. It worked, but they dealt with weather interferences and data limits. The fiber optic connection has worked much better.
"For the type of work that my wife and I do, it's nice to be able to telecommute if we have to," Clyde says. "It's been good for us."
Internet Offers More Options
Toy Litzel uses the internet to search for parts and research equipment repairs for his ranching operation and for reliable email. His wife, Brenda, operates a couple of businesses from home selling crafts and other items online. "Now she's selling stuff all over the United States, which is possible thanks to the internet," he says.
Clyde acknowledges his rural location may not be for everyone, but he can't imagine living anywhere else. He enjoys the abundance of fresh air and wide-open spaces. "It's a slower pace, but it's a very rewarding type of lifestyle."
Clyde hopes his two adult children will return to the ranch one day, and the fiber optic connection may help lure them. He's also restoring and adding on to another residence there just in case. "After you spend 100 years ranching here, you don't want to see it disappear."