Fiber connection cuts commute from 200 to zero miles daily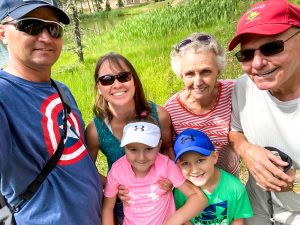 For years, Misti Hostutler traveled 1,000 miles each week from her family's farm near Midland to White River for work with an Information Technology (IT) company.
"It was a lot of driving," Misti says. "Then we decided we wanted to start our family."
Thankfully, she was able to start working from home just before having kids. The arrangement is effective today thanks to her fiber optic internet connection from Golden West. Misti working remotely improved productivity for the Hostutler's, gave them more quality time, and allowed her to also help on the family's third-generation farm.
"Immediately, the fiber was great," Misti says. "It's a relief to build a home but still be able to bring in an income and contribute to the family financials."
Shifting to remote work
After earning her IT degree in Rice Lake, Wisconsin, Misti returned to her hometown of Midland, and began working for the White River IT company. Initially, she provided on-site client support. Now, she focuses more on procurement, or finding solutions for clients.
Misti and Brian Hostutler have been married 17 years. The couple have an 8-year-old daughter and a 9-year-old son, also known as their "co-pilots" on the farm.
"We farm as a family," Misti says. "My husband and I truck our own wheat to town with the kids. It's a family affair."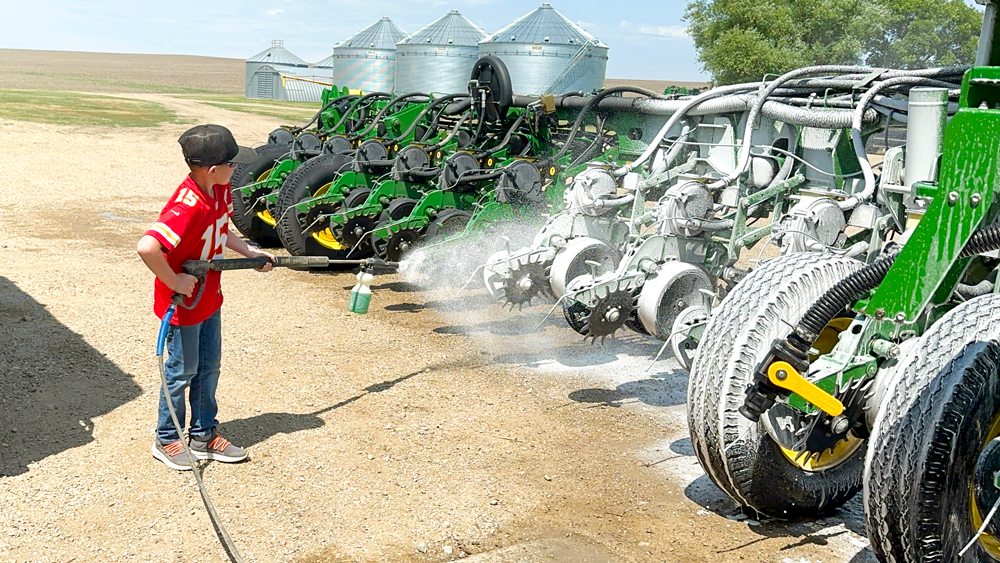 The power of fiber beyond work
Before fiber, internet connectivity issues made it difficult to serve clients in a timely manner due to lag, Misti says. She noticed an immediate and significant improvement in her work process when the fiber optic connection came to the Midland area five years ago.
"I love working from home," she says. "Thanks to Golden West, they make it possible. When the fiber came in, that was phenomenal and improved my work experience daily."
The Hostutler family also relies on their fiber optic connection for entertainment and family time.
"Amenities are few and far between where we live," Misti says. "After a long day of work, we utilize fiber for entertainment, as well. Outdoor movies are a family favorite, and it's nice to be able to stream our movies."
Overcoming cellular service connections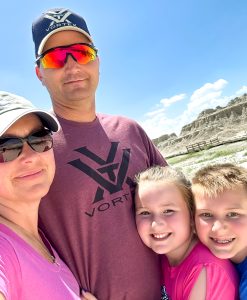 Driving between Midland and Philip along Tunnel Road, vast fields of wheat, milo, and sunflowers grow. Cellular service connections here depend on the luck of the day.
A farm expansion in recent years increased the Hostutlers' workload. It also provided them with the opportunity to practice Smart Agriculture, or SmartAg. This technology-driven solution aims to modernize agriculture by adding advanced data gathering and analytics to farming practices.
For the past six years, Misti and Brian have embraced SmartAg. Using iPads connected to the fiber optic network via Wi-Fi, they gather and process data faster than in past years. With limited cellular service, they rely on their fast Golden West internet connection to quickly upload crop data for processing, in addition to Misti's remote work.
"We have prime speeds for everything to work now, so that's helped as well on the farm," she says.
Misti hopes to continue balancing her remote work and family farm responsibilities. The flexibility of her job, along with leveraging SmartAg technologies and the fiber optic connection, allows her to contribute to both worlds.
"I love being able to stay connected to the IT world, and I love the company I work for, plus the flexibility," she says. "I love being able to have this life, being able to stay tight knit as a family. We can do everything together, and it's really wonderful."