Facebook Page or Website
On a Monday in March 2018, Jayne Gottsleben took an 11-second video of her husband Bill driving over a collapsible gate on his ATV between livestock pastures. She shared it on Facebook that evening.
"By 4 p.m. Tuesday, our video had reached 100,000 people," she said. "And within the next hour – as I was answering posts and messages – it doubled to 200,000 people!" Five days later, the video from the ranch outside of Philip had reached over one million people from all over the world.
Gate Manufacturer Relies on Facebook
While their videos and posts don't get quite that kind of attention now that people are more familiar with their product, the Gottslebens still rely exclusively on Facebook to market Bill's Gate Manufacturing LLC online. The company does not yet have a website.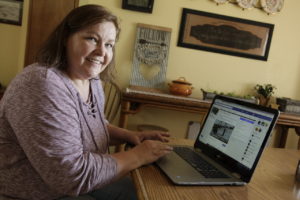 A strong digital presence helps businesses reach more potential customers. But should your business or side hustle have a Facebook page or a website – or both? While a Facebook page can offer exposure to potential customers who don't even know they want your product, businesses have more control and ownership over a website. Read on to learn about how a couple of other businesses use each option and for a review of the pros and cons of each.
"We can be as active as we want to be (on Facebook)," Jayne said. She and Bill continue to farm and ranch, and when they're busy doing that, so are their customers. The gates also aren't conducive for shipping, and coordinating delivery becomes a challenge with direct online sales.
Cattle Breeders Use Website Only
In contrast to the Gottslebens, Jim and Peggy Woehl market their High Pines Dexters small cattle breed through their website at highpinesdexters.com. They do not have a Facebook page.
"We use Facebook personally, but not as a business," said Jim. "We thought about setting up a page, but we never got to it. That's probably OK, because Facebook controls your information and who sees it. Besides that, you can't sell animals on Facebook anymore, so it wouldn't be to our benefit."
Even though they don't have their own page, the Woehls still use Facebook to share information about their livestock. They post to group cattle pages on Facebook and direct people to their website.
Retail Store Uses Both Website & Facebook
When Amanda and her husband, Ryan, bought the Badlands Outpost next to Wall Drug in Wall from his aunt in 2018, sales for the tourist shop were done exclusively in store. They added online sales the next year.
The change started the first summer when Amanda added a small selection of clothing to her inventory. "I got a few graphic tees and hoodies, and they went over like crazy," she said. "Our winter months are super slow, and I thought, 'let's go online.'"
In addition to expanding into boutique clothing, the online store received a slight name change and can be found at shopthelittleoutpost.com. Amanda shares her offerings on Facebook – posting as many as six or seven times a day – and pushes people to the website to purchase.
"I use Facebook all the time," she said. "If I didn't have Facebook, I definitely wouldn't be anywhere online."
Amanda acknowledged the benefit of having a well-trafficked physical store. She's working to turn her in-store customers into online customers, as well. She and her employees collect email addresses and encourage people to follow the shop on Facebook. Every in-store customer also receives a coupon for 25% off their first online order.
"I'm still really new to the online world," she said. "I am getting more online orders all the time. It's crazy busy, but I love it."
Which one is best?
While there is no one best answer for everyone, if resources allow, it's probably best in the long run to use Facebook to drive traffic to your website – so use both options. But if you aren't comfortable with Facebook or you aren't ready to invest in a website, choosing just one option is better than none.
Both options must be maintained to ensure up-to-date information is shared. Both also offer insights or analytics into page views and site visits. There are many differences, however. Here are the pros and cons of each:
Pros & Cons of Facebook & Website
*Golden West does not endorse any products or services in this article that it does not provide.