Combining Culture & Curriculum

Lakota Tech High School Offers Career Exploration
Taylor, a sophomore at Lakota Tech High School, wants to be a sports physical therapist. She credits the school's curriculum — a combination of traditional academics and real-world experience — with helping guide her down that career path.
"It's really opened up all the jobs that are available to me, and what I would need for education to get into those positions," she says. "My health sciences teacher has helped me look into colleges that offer programs for that. We can job shadow over Zoom, and once COVID is over, we can get into places and shadow in person."
Hands-on learning like that is one of the many benefits of a Career and Technical Education (CTE) school like Lakota Tech High School in Pine Ridge. When Lakota Tech opened in August 2020, it was the first CTE school to serve a Native American population on a reservation in the U.S.
It is quickly becoming a model for education nationwide.
Benefits of a CTE vs. Traditional School
Schools that focus on career and technical education are gaining popularity among students and educators alike. Advances in technology and the shift to a global economy make traditional education models less of a one-size-fits-all solution nowadays. CTE schools provide students with a comprehensive set of both academic and hands-on skills that give them multiple post-graduation opportunities.
"Typically, the electives you take in high school are academic- focused," Principal Stephanie Eisenmenger says. "With ours, you're seeing more skills-based, hands-on, real-life experiences. We're providing resources for students to launch into a career in a way that makes sense for them, their families, and their communities."
Higher graduation rates and increased employability are two other factors that make CTE schools attractive. At Lakota Tech, students enroll in academies based on their long-term career interests. There are eight total, covering careers like business, engineering, medical tech, and teacher prep, and students can explore different academies at any time.
"They can bounce around and really figure out what they want," Eisenmenger says. "By the time they're seniors, they've at least whittled it down and have some pathways they know they can be happy and successful in."

An Opportunity to Bring the Best Pieces Together
Building a CTE school devoted to indigenous students was important for a variety of reasons. "There were a lot of different pieces at play," Eisenmenger explains. "But ultimately, it's about having the self-governance
that comes with living on a reservation. We want to provide students with the ability to make their community exactly what they want it to be."
Planning for the school began five years before it opened, and Eisenmenger was brought aboard a year before. The planning, prep work, and hiring necessary to get the school ready to open involved a lot of exploration. She visited other CTE schools, not just in South Dakota but as far away as Arizona, to determine what an ideal CTE school would look like.
"It was a lot of trial and error, figuring out what best practices were being utilized elsewhere, then taking those components and putting them together into one thing," Eisenmenger recalls. "You have to learn from the mistakes of others, learn what works well in other places, and bring all the best pieces together. The more I've spent time in the CTE world the more I've seen how much more engaging and meaningful the work that
students are doing can be."
Another important step in the exploratory process involved gathering feedback through a community needs assessment — a prerequisite for obtaining CTE funding through the state of South Dakota.
"The nice thing about that is, you get to hear from business owners, parents, and students about what they want and need," Eisenmenger says. "All the programs we offer here are directly connected to the needs of the community and the interest level of students in the program."
Student Perspective is Very Positive
Hannah, also a sophomore, is another champion of the curriculum at Lakota Tech High School. She's taking human service classes to learn more about herself and how to help others and has nothing but positive things to say.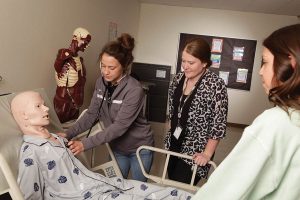 "I like it a lot," Hannah says. "They're offering classes that have helped me narrow down what I want to do. We still have that traditional high school experience; there's just so much more added to it. We get the whole package! My favorite thing is the environment. Everyone wants to be here and is happy that we're all together."
With 165 freshmen and 345 total students, Lakota Tech is rapidly nearing its capacity of 400. As a result, they are already exploring expanding the high school through additions.
Another key focus for Eisenmenger is developing partnerships with area businesses to create more real-world opportunities for students. All in all, she couldn't be more pleased with the school's inaugural year.
"With COVID, it definitely wasn't the way I envisioned our first year," Eisenmenger says. "But I think we made it through very well given the circumstances. It's exciting to see students' doors be opened to different experiences."