Black Hills Couple Fills Niche with Fresh Regional Meat & Produce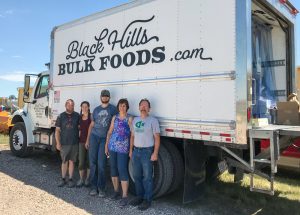 When David and Merissa Alink started Black Hills Bulk Foods in 2021, their goal was simple. They wanted to feature high-quality regional products at reasonable prices. Judging by their steadily growing clientele and the need to upgrade to constantly bigger delivery trucks, it's safe to say they've found their niche.
"We aren't a big operation," David says. "We run the company as a family business. We've always been non-traditional food buyers, ordering from different co-ops over the years. There's a need that we saw here in the Black Hills and decided we should fill it."
Fresh & Affordable
The Alinks started planning their business in 2020. While COVID-19 spurred an increase in food delivery services, the pandemic wasn't a factor in their decision. They just wanted to offer customers fresh, local produce and meats at inexpensive prices.
"Our goal is to be affordable," David explains. "We have a pretty wide variety of products, anything from certified organic to conventional. We try to be the most affordable place to get it in South Dakota, and customers have appreciated that."
Another focus is on freshness, and that's where Black Hills Bulk Foods differentiates itself from chain grocers.
"A lot of meat at the grocery store is frozen and then thawed out and sold as fresh," David says. "Most of our products are in our possession anywhere from 24 to 36 hours. We pick up on Thursday and deliver Friday and Saturday, so it's about as fresh as you can get."
An Emphasis on Regional
Black Hills Bulk Foods' most popular items include a mixed produce box, fresh chicken, applewood smoked bacon, and fair trade organic roasted coffee. Top sellers change with the seasons; currently, picked-to-order Palisade peaches from Colorado are hot commodities. Earlier this year, it was strawberries and cherries. In the fall, attention shifts to pears and apples. And Thanksgiving turkeys are a big deal. No matter the product, the emphasis is on supporting growers and producers from around the region.
"We work with quite a few South Dakota businesses — meat, honey, cheese, things like that," David says. "We try to keep our buying as regional as possible when things are in season, with our biggest producers coming from South Dakota, Colorado, and Iowa."
The ordering window is open Monday-Wednesday, once or twice a month, with deliveries the following week. Customers can consult the quarterly schedule on the Black Hills Bulk Foods website for specific details. The Alinks deliver throughout the Black Hills into Wyoming. They also organize a pop-up market at their facility in Hot Springs for those who'd like to pick up meat and produce themselves. It's a great way to ensure any extra items don't go to waste. With 50 or so people waiting outside the door before they open, that's never a problem. The pop-up market is only open for three hours once every three weeks following regularly scheduled deliveries, but there is talk about expanding it to accommodate customers' needs.
Word of Mouth Spurs Growth
Originally intended as a part-time endeavor, Black Hills Bulk Foods has proven to be even more successful than the Alinks imagined. They've already got their hands full; David is a minister, Merissa is a blogger and published author of books like Living Slower and Little House Living, and they're homeschooling three children. Merissa's parents and brother help out; if not, the couple might never find time for their business venture.
Golden West also plays a role in helping Black Hills Bulk Foods thrive. Their off-the-beaten-path location hasn't been a hindrance thanks to a reliable fiber optic connection.
"The majority of our work is done at home," David says. "We live out in the woods, but we have the high-speed internet we need to run our site. If we didn't have the service out here, we couldn't do it."
Most impressively, they haven't even had to advertise Black Hills Bulk Foods. With every order, it seems they add a couple of dozen new people. Word of mouth has fueled that phenomenal growth. David and Merissa have gone through four different trucks in the short time they've been in business, each one bigger than the previous so they can keep up with demand.
"Needless to say, we stay busy," David admits. "But it's good. There's definitely a need being filled. We appreciate all our awesome customers; they're just kind of a big family!"