Bird is the Word for Rural Communities Seeking an Economic Boost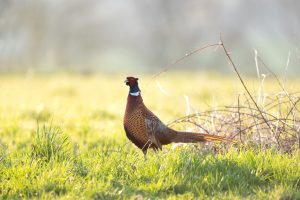 South Dakota is the undisputed "Pheasant Capital of the World." Thanks to favorable habitat and strong conservation efforts, there are more pheasants here than anywhere else in the U.S. Not surprisingly, South Dakota has earned a stellar reputation for pheasant hunting.
Every October, locals and nonresidents alike flock to the fields in pursuit of roosters. Rural communities across the state reap the economic rewards.
A Long Tradition of Hunting
South Dakota averages over 100,000 pheasant hunters harvesting over one million roosters in a typical season. That's a big jump from the inaugural South Dakota hunting season when 1,000 hunters harvested 200 pheasants over the course of a single day on Oct. 30, 1919.
The booming business is great for the economy. Pheasant hunting nets around $287 million in revenue each year for South Dakota. The impact is especially significant for communities that lie in the "Golden Triangle" – an area between Chamberlain, Gregory, and Winner which is largely served by Golden West – that has the highest pheasant population and best hunting opportunities in the state.
"Hunting is one of our main sources of revenue," confirms Suzanne Braun with the Gregory/Dallas Area Chamber of Commerce. "We have several hunting lodges in the Gregory/Dallas area that bring in thousands of hunters each season. There's revenue for the lodges and it also brings hunters into the community. We have a great business district, but the hunting helps assist the in-town businesses."
The Pheasant Capital of the World
The ring-necked pheasant, native to Asia, was first introduced to South Dakota in 1898. In 1943, it was adopted as the official state bird. Its legacy was cemented in 2006 when it made its way onto the South Dakota state quarter, pictured in flight above the Mount Rushmore National Memorial. Ironic, given that the ring-necked pheasant prefers walking and running to flying.
Thanks to extensive grasslands and winter wheat for nesting habitat and to abundant wetlands which attract insects for food, the birds thrive here. Population numbers rise and fall depending on a variety of factors ranging from habitat loss to weather. Current estimates place the pheasant population at around seven million.
The Conservation Reserve Program (CRP) aims to protect pheasant habitat by paying landowners an annual fee to set aside a portion of their land as a wildlife sanctuary. In 2019, CRP acreage totaled about 1.1 million acres.
Benefits Go Beyond Economic
Winner Area Chamber of Commerce Executive Director Michael Scott also sees the benefits of pheasant hunting to his community. He estimates annual revenue from pheasant hunting has averaged $9 to $10 million the past couple of years, but that's only part of the picture. There are other ways hunters contribute to the community.
"I've been the current president of Pheasants Forever for 20 years," he explains. "At our annual banquet, probably 40% of attendees are from out of town. Their attendance helps our chapter spend more money locally on different things like education, habitat, and youth programs."
Other intangibles have nothing to do with dollars and cents.
"A lot of our local people have built really strong relationships with these hunters that come back year after year," Michael says. "I think they look forward to that, and I think that's been a real positive thing."
Airport Expands to Accommodate Hunters
To accommodate the annual influx of hunters to Winner, the concrete runway at Winner Regional Airport extends 5,500 feet – more than double the town's population of 2,700. While the airport serves a variety of aircraft, this time of year a lot of people utilizing the airstrip are pheasant hunters. Their Gulfstream jets and turbo prop airplanes require a lot of room to land, so the runway was expanded by 1,000 feet to its current length in 2014.
The increase in traffic is substantial. During most of the year, daily arrivals and departures at the airport average around six. For the week beginning October 17, 2021 (the official start of hunting season), there were a total of 172 arrivals and departures – including a high of 29 on Oct. 21.
It's too early to tell whether that's an indication that this season will be a good one as the drought has experts predicting lower overall bird numbers. However, over the same period last year, 101 aircraft arrived and departed.
"As far as the phone calls I take here at the chamber office, people are still looking for places to hunt and to stay," Michael says. "I think our motels have been pretty full, so the hunters are there. We just hope we see a few more birds this year. We have such a good reputation here in Winner for being one of the best places in the country to hunt pheasants."
Sources: Some information for this article was provided by online articles from pheasantsforever.org, gfp.sd.gov, dakotapheasantguide.com, sdnewswatch.org, and fieldandstream.com.