Being Excellent is Easy When It's Part of Your Name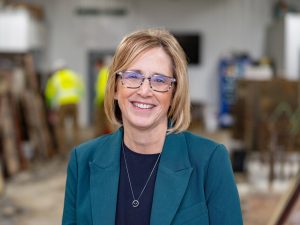 You might say that construction is in Kari Karst's blood. Her dad had a long career in the industry, and now Kari – CEO, President, and majority owner of BX Civil & Construction in Dell Rapids – is sharing that passion with her children. Her sons Colin and Adam both work there, alongside her husband, Rob.
"It's a pseudo-family business," Kari says. "People ask if we're first-generation or second-generation. Technically we're first generation, but we have some second-generation tendencies, because my dad was in the industry and was very well known."
Who Says You Can't Go Home Again?
Kari's stake in BX Civil and Construction (BX-CC) came about thanks to her father, Merle Davis. A bridge builder by trade, Merle once worked for Buskerud Construction, a predecessor to BX-CC, before joining Sweetman Construction in Sioux Falls.
"At one point, this company was sold from the original family to Sweetman Construction," Kari says. "That's how I got the opportunity – because of my dad's knowledge of the business and what they were thinking about doing with this particular subsidiary."
Kari, a Dell Rapids native, took a job with Ingersoll Rand after graduating from college. She spent two years in Charlotte, North Carolina, and four more in Los Angeles, before the opportunity to buy the business came up. In 2012 they renamed the company BX Civil and Construction. It's a moniker with a double meaning.
"The 'B' is a throwback to Buskerud," Kari explains. "But really, for us, BX means 'be excellent.'"
Excellence is something BX-CC prides itself on. The highway and road construction contractor works primarily with Department of Transportations in a 300-mile radius, an area that includes the Dakotas, Minnesota, Iowa, and Nebraska. Their strong commitment to providing quality customer service has helped the company secure a positive reputation within the industry.
"We want to be a trusted partner with our clients," Kari says. "We have a reputation that the inspectors know we're going to do it right — and if we've done it wrong, we're going to stand up to it and fix it."
BX-CC tackles road and highway construction projects of all sizes; they aim for a diverse line of work, everything from building box culverts and erosion control to paving and bridge repairs. Kari feels this is what sets them apart from the competition.
"We invest heavily in project management," she says. "We probably have more project managers for a company this size than any of our competitors in the area. We have a broader scope of work, and the best way to do that is to have good project management."

Dell Rapids is a Hidden Gem
While Kari is happy to be back in her hometown, she doesn't regret her time spent in Los Angeles – despite the bad rap the city often gets from outsiders.
"People were like, 'oh, weren't you so happy to get out of Los Angeles?'" she recalls. "You know, we loved it there. I wouldn't trade that time in my life for anything. But I also wouldn't trade raising my family in Dell Rapids for anything, either. There's absolutely no better place to do so. It's a beautiful community that's got everything you want. I think it's a hidden gem."
Like many other South Dakota communities, Kari believes Dell Rapids is experiencing an upward growth trajectory. She believes it's more gradual than other places, and therefore more manageable, due to the fact that Dell Rapids flies under the radar … even with locals.
"The reason it hasn't grown as fast is that people perceive it as farther than it is," Kari speculates. "I have friends in Sioux Falls, and they'll say, 'Oh, you've got to drive back home tonight.' My drive home is as fast if not faster than theirs. It's one of those things: perception versus reality."
There's a positive side to being a hidden gem. Less-rapid growth means the city has more time to react to changes and the needs of its residents and can better manage the influx of people, she says.
Technology Impacts Construction Industry
All industries evolve over time, and construction is no different. The biggest changes Kari has seen in the past few years revolve around technology. When she first began her career, Kari relied on fax machines and spreadsheets. Today, the internet plays a prominent role in her business. That's where Golden West fits in.
"For a highway construction company who by nature is dispersed, we can't do business without the internet," Kari says. "Golden West does a really good job of utilizing resources to make sure that the technology allows our business to run. That's really appreciated."
Though they aren't ready to hang up their hard hats quite yet, Kari and Rob are starting to look at a succession plan for BX-CC. Between their two sons and a broad range of young, talented project managers, she has no doubt the company will be in good hands even after she scales back her duties.
"As much as we love to golf, Rob and I don't see ourselves as seven-days-a-week golf retirees," she says. "We see ourselves staying somewhat engaged. In my mind, it means we stay involved enough to be the sage consultants. I'm super optimistic about the talent we have on the team. We're going to do great!"
Check out our Meet the Owners Video with Kari Karst of BX Civil & Construction in Dell Rapids: