Badlands Lead to Good Adventures
If you've ever stopped for free ice water at Wall Drug before exploring the rugged pinnacles and spires of the Badlands, you can relate to the editors of Midwest Living magazine. The regional publication honored both South Dakota attractions in its 2021 Best of the Midwest awards.
Wall Drug earned the title of "Best Photo Opportunity" and the Badlands were named "Best National Park" in the magazine's February issue. If you've never been out that way — or it's been a while — what are you waiting for? A visit to the Badlands, with a detour through Wall Drug, is an easy and memorable getaway … whether you're staying for one day or several.
Can't-Miss Highlights
There's so much to see and do in the Badlands, putting together an itinerary is challenging. With 242,756 acres to explore, you can visit dozens of times and never run out of things to discover. But for those whose time is limited, there are certain can't-miss highlights.
Highway 240, also known as the Badlands Loop Road, is a two-lane paved road that can be accessed from Exit 110 for those traveling eastbound on I-90 or Exit 131 for westbound travelers. The road winds for 31 miles through the park, with over a dozen pull-outs and scenic overlooks. It's the best way to get an overview of all the park has to offer.
Be sure to take time exploring these areas along the way:
Visitor's Centers
Informative and educational, visitor's centers are a must-see for first timers and a great place to stretch your legs after being cooped up in the car.
The Ben Reifel Visitor Center is the park's main visitor center. It's open year-round and offers maps, exhibits, a bookstore, and a working fossil preparation lab. Park staff are on hand to answer questions and
provide directions.
The White River Visitor Center, located on the Pine Ridge Reservation in the South Unit of the park, is open during the summer. It offers maps, museum exhibits, water, and restrooms. Rangers often hold talks about the Badlands and Lakota culture.
Overlooks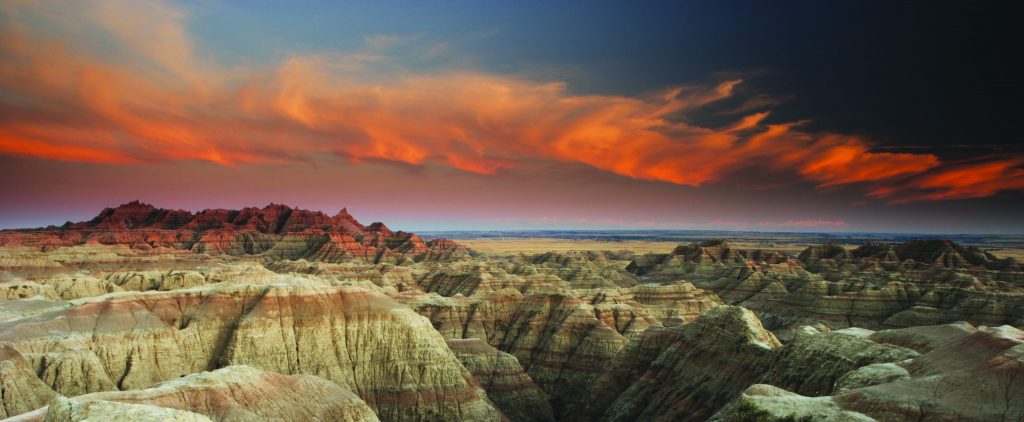 There are plenty of places to pull over and enjoy the scenery. Each stop is unique, so you'll want to visit as many as you can. Favorites with park visitors, from east to west, include:
Big Badlands Overlook. A great place to view the eastern portion of the Badlands Wall, a 60-mile-long ridge comprised of sedimentary layers that crisscrosses the prairie. On clear days, Eagle Nest Butte is visible on the southeast horizon.
Prairie Wind Overlook. The Badlands boast the largest preserved mixed-grass prairie in the U.S., and this is a great place to get a sweeping view of the native vegetation. It's also a visible reminder of the geological diversity within the park.
Yellow Mounds Overlook. A rainbow of yellow, purple, gray, and red striped rock layers runs through the mounds at this colorful pull-out — a stark contrast to the primarily beige landscape. These are among the oldest rocks in the park.
Pinnacles Overlook. This westernmost overlook is one of the most dramatic, offering sweeping views of jagged pinnacles, the prairie to the south and, on clear days, the Black Hills to the west. If you're planning to catch a sunset (you should!), this is your go-to spot.
Hiking Trail
The Badlands are a great place to hike (but please remember to bring water, as temperatures can soar during the summer months). Trails are available for all skill levels.
On the eastern edge of the park, the Notch, Door, and Window Trails are easily accessible from a large parking lot. Depending on your comfort level, you can peer through a gap in the Badlands Wall deep into the canyon below; traverse flat, moonscape-like terrain for an up-close look at the spires, canyons, and gullies; or climb a short but steep log ladder for expansive views that stretch south to the adjacent plains.
The Cliff Shelf Nature Trail is a short loop along a boardwalk and gives you a chance to escape the heat under the cover of an old stand of juniper trees.
Interested in extinct creatures that once roamed the park? Check out the Fossil Exhibit Trail, a short, self-guided tour along a boardwalk that features fossil replicas and interpretive signs.
Those looking for a longer hike can opt for the Castle Trail (5 miles end-to-end if you bring two vehicles, or a 10-mile roundtrip).

Wildlife
The Badlands are home to a variety of wildlife species including bighorn sheep, bison, coyotes, mule deer, prairie dogs, pronghorn, and more. Please be respectful of all wildlife and keep your distance. Prairie rattlesnakes are found here, too, so pay attention to warning signs and watch your step!
Be sure to dress in layers regardless of the season, bring sunscreen, and don't forget your camera. Above all else … have fun!