Auto Shop Owner Gains Wheel World Experience by Wearing Many Hats 
Lynnae Redenius has been in the automotive industry for 35 years. She may know a thing or two about brakes, tires, and jacks, but it's her customer service philosophy that has been the cornerstone of her success. 
"I've been customer service oriented my whole life," Lynnae says. "That's what got me to where I was going." 
'I Was Always Up for a Challenge' 
Lynnae didn't necessarily foresee a future that involved automobiles. She grew up on a farm outside Hartford and, though her dad worked on tractors and equipment, Lynnae wasn't sure which direction she was headed. She went to school for business, and after graduating was looking for a job. A family member gave the push that got Lynnae where she is today.  
"My husband Kent's uncle was the controller at Pam Oil," Lynnae recalls. "And he said, 'we've got a position open here in customer service — would you be interested?' I said sure. So, I worked in customer service and learned everything about the company. I never regretted it for a second because you have to start somewhere." 
Lynnae immersed herself in the product line, quickly learning how everything worked and where each product was applied. She cites the in-depth study of different oils and antifreezes as an example.  
"We always say it's not rocket science," Lynnae recounts. "But you still need to know what you're doing. There was always something different going on, and that's why I stayed in that position. It was always a challenge, and I was always up for a challenge." 
Lynnae moved up in the company, taking on roles in inventory management, marketing, and sales, where she grew a territory of 35,000 customers into two million. This hands-on experience in many different areas of the company played a crucial factor in her eventual success as a business owner. 
"My drive got me there," she says proudly. "If you're turning a wrench and then all of a sudden running the business, I don't know how people do it. It's a huge difference, and I can't even imagine how I would feel if I didn't have the experience I had in this automotive distribution company. I did it all except work in the warehouse." 
Leaving the Corporate World Behind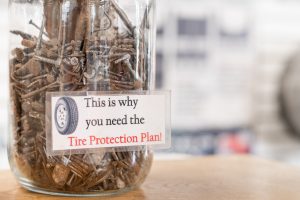 After almost 25 years at Pam Oil/US Venture, Lynnae was eager for a change. She was ready to leave the corporate world for a career that offered personal fulfillment. She had gone to church with Milford Tammen, the owner of Tammen Auto & Tire in Hartford, her whole life. When Milford decided to sell the business, Lynnae expressed an interest. Due to their friendship, negotiations proceeded carefully. 
"I said, at any point where we disagree, we'll just call it off. No feelings hurt," she explains. "Whenever we had a bypass, it was always resolved, so I just felt in my heart this was the thing I wanted to do." 
They came to an agreement after eight months, and Lynnae officially took over ownership of Tammen Auto & Tire in January 2011. She kept the name because it's so ingrained with local residents.  
Under Lynnae's direction, the shop has flourished, drawing everybody from locals to travelers passing through. Her background in customer service continues to shape the way she runs the business. 
"I want to provide the best service possible for my customers," Lynnae says. "That is my ultimate goal. I know we're not the most enjoyable place to come, because you have to spend money, but in the long run, we help. We give customers their freedom back, because if you don't have a vehicle, you don't have freedom."  
Exceptional Customer Service is the Main Goal 
Lynnae feels very fortunate to be doing business in Hartford.  
"My husband and I have been in this area basically our entire lives," she says. "When you live in a small town, you get to know people well. This has been my community my whole life!" 
Businesses in Sioux Falls, Lynnae believes, can afford to lose customers because they have so many new ones coming through their doors every day. That's not the case in a town like Hartford … a fact that makes her strive even harder to provide exceptional service. 
"I take it personally when I lose a customer," Lynnae says. "I want to provide the best customer service and be here when they need us."  
The couple's son, Brandon, is a fabrication manager who lives in Hartford. Daughter Cortney is a nurse at the Sanford clinic in Mitchell … close enough for Lynnae and Kent to spend time with their two grandchildren.  
She is also thankful to have Golden West literally down the street from Tammen Auto & Tire. When a battery powering the fiber optic lines for their phone system died recently, a Golden West service technician was there within minutes to fix the problem and ensure minimal disruption.  
"We love Golden West," she says. "They're fantastic to work with. Some of the Golden West customers are our customers, so it's like an extended family." 
Check out our Meet the Owners Video with Lynnae Redenius of Tammen Auto in Hartford: