New Directors, Bylaws and Amendments
Over 200 members attended the 69th annual meeting of the Golden West Telecommunications Cooperative on Saturday, Sept. 25. They heard from the president and general manager, elected board members, and decided on proposed amendments to the co-op's articles and bylaws.
Board of Directors President Jeff Nielsen opened the meeting by discussing how both members and Golden West employees displayed the strength and adversity to rise above the challenges of the past year. He shared how Golden West's fiber optic network kept everybody from business owners to high school students connected and productive.
"Our fiber optic network proved invaluable during the pandemic," Nielsen said. "In a year when more people than ever found themselves working and learning online, strong and reliable internet connections were crucial — and Golden West's network delivered."
Investing in Infrastructure, Employees & Communities
Golden West General Manager and CEO Denny Law emphasized how Golden West's investments in infrastructure provided members with the resources needed to navigate through an unprecedented situation. He also mentioned the importance of investing in employees and supporting the communities served by Golden West — even on a statewide level.
"In a difficult year, the Golden West Cooperative raised $13,282 for Feeding South Dakota last December," Law said. "Thanks to generous contributions from individual employees and members of the Board of Directors, fewer people in South Dakota worried about going hungry this year."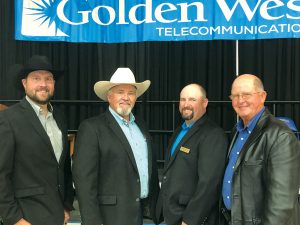 Voting on Directors, Articles & Bylaws
Following Law's address, the membership elected four people to four-year terms on the board of directors. Those elected include Jade Hlavka, District I; Dave Assman, District IV; Murdock Arthur, District VI; and Bart Birkeland, District VII. In addition, the membership approved three of four ballot items covering proposed amendments to the Golden West Articles of Incorporation and Bylaws. Golden West drew names and gave away more than 25 prizes. Dan Paulson of Quinn won the $500 grand prize. Thanks to all the members who attended this year's meeting. The 70th annual meeting will be held on September 24, 2022.
Left to Right:
Murdock Arthur, District VI
Dave Assman, District IV
Jade Hlavka, District I
Bart Birkeland, District VII