5 Ways to Make Sure Your Cloud Files are Safe & Secure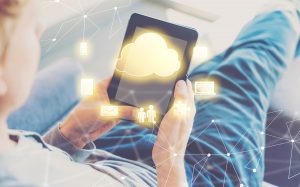 How many times have you stared at the sky and seen clouds shaped like animals? It doesn't take much for our imaginations to conjure up fluffy dogs, rabbits, and other shapes in the skies overhead. Tech-minded individuals associate something else with clouds: a place to store data files.
Cloud storage is a convenient and cost-effective way to keep files from cluttering up your hard drive. But there are some security considerations for storing your data in the cloud. Taking steps to keep your data safe will provide you with peace of mind.
What is The Cloud?
A decade ago, "the cloud" might have meant that angry-looking cumulonimbus building up to the west, threatening to ruin your picnic. Today, it refers to a global network of remote servers that allow you to store data on the internet instead of your computer.
There are many advantages to storing your files in the cloud. They are easily accessible from multiple devices—all you need is an internet connection. Files won't be irretrievably lost if your hard drive crashes or your computer is damaged or stolen. And you have virtually unlimited storage space, saving you money that might otherwise be spent upgrading your software and hardware. Business customers save on IT costs and equipment overhead since they do not have to maintain their own servers.
This doesn't mean cloud storage is completely risk-free. Anyplace where personal information is stored is going to be attractive to hackers. The good news: your files, photos, and videos are likely safer in the cloud than they would be on your own hard drive. This is true for several reasons.
If cybercriminals hack into your device, they may install malware and demand a ransom before releasing your files. The companies that provide cloud storage solutions can — and do — invest a lot more into security measures. These include encrypted files, regular security updates, built-in firewalls, and redundancy (backing up your data multiple times and storing it on different servers).
Choosing a Cloud Storage Option
Popular cloud services include Google Drive, Dropbox, Microsoft OneDrive, and Apple iCloud. Golden West IT Manager Paul Geldert says those services do a great job syncing files from your computer and are fine for most consumers, but there are exceptions.
"There are a lot of good options out there, but they are not a true backup solution," he says.
Basically, this means if your computer were compromised and you were linked to one of those services, you might still lose your data.
"Some businesses kick it up a notch and use actual backup services like Backblaze or Carbonite," Paul adds. "They give you multiple versions of your files and some additional authentication to keep things safe."
Tips to Keep Your Data Safe
Still, no storage solution is completely hacker-proof. There are precautions you can take to ensure your files are protected in the cloud. These include:
Encrypt your data. Make sure the service provider you choose encrypts your data before storing it on their cloud servers. Look for a URL that begins with https:// or includes a padlock icon in your browser.
Use a strong password and two–factor authentication. Choose a unique password or phrase that includes a mix of upper- and lowercase letters, numbers, and symbols, and is difficult to guess. Enable two-factor authentication if available for an added level of security.
Back up your data. Though most cloud providers do this automatically, it's a good idea to also back up your most sensitive information to an external hard drive. Doing so ensures you'll have access to your data if a server goes down and gives you an extra layer of protection.
Enable account alerts. Most cloud storage services will send you information about unusual account activity, such as sign-ins from new devices and files that have been removed. Be sure to turn this feature on if it isn't done automatically.
Deactivate old devices. If you are uploading files to the cloud from multiple devices, make sure you disconnect and deactivate your old ones when you switch to a new phone, computer, or tablet. Sign out of the app on your old device and uninstall it, even if you're just planning on tucking it away in the back of your sock drawer.
Follow these five tips and you can rest assured your data is as safe as it can be.
Golden West does not endorse any of these products or services.
Sources: Some information for this article was provided by online articles from Wired.com, Norton.com, and bu.edu/tech.