Small engines power more than equipment for family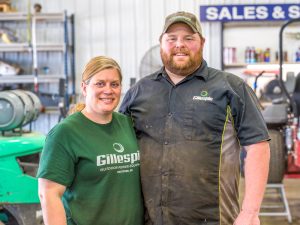 Growing up, Justin Gillespie spent hours upon hours in his parents' garage on the family farm, teaching himself to repair small engines on motorcycles and snowmobiles.
"It started off as a hobby, and I just kind of had to figure it out all on my own," says Justin.
For years, multiple people would come to Justin for his services. Eventually Justin turned his skills into a business, Gillespie Outdoor Power equipment in Hartford, that specializes in small engine service repairs. He owns and operates the business with his wife Missy, and together they have two boys, Logan and Blaine.
Family business serves the community
Justin attended North Dakota State College of Science and then worked for various powersports dealers and a snowmobile company across Colorado and South Dakota. During this time, he realized the need for specialized small engine repair services where he grew up.
"I was ready for a change, and there was a need for small engine repair," Justin says.
Gillespie Outdoor Power Equipment is a true family affair. In addition to Missy and Justin, Missy's parents also contribute. Her father helps with deliveries while her mother handles phone inquiries.
They are busy all year, but they are busiest in April, May, and June. During spring and summer, they handle a lot of mowers, chainsaws, and trimmers, while the winter season brings in numerous snowblowers.
Valuing local business
Justin and his family enjoy creating meaningful relationships with their customers and staying connected to the local community. They support youth activities and actively contribute to local organizations like FFA and baseball, aligning their values with their business practices.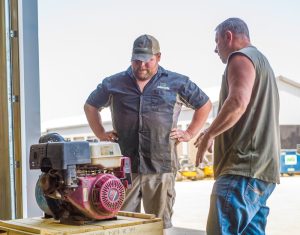 Gillespie Outdoor Power Equipment also does their best to educate their customers about their services and to treat their customers as they want to be treated. The Gillespie's believe this is important for a small business to be successful.
"We aren't a big place where you just check customers out and never see them again," Missy says. "If we go to lunch in Hartford, Parker, or Colton, we may run into our customers. So, you want to make sure you treat them the right way."
Small-town feeling
Justin and his family appreciate the vital role Golden West plays in their business. Golden West helps keep their services running smoothly.
"I think the biggest way Golden West has helped is that they still have the small-town feeling," says Justin. "We're not just their customers; they are our customers, too."
Gillespie Outdoor Power Equipment focuses on building relationships with their customers. They strive to keep a friendly, small-town atmosphere and foster a sense of community.
"I feel like I know Golden West because of the people that are in my local community," Justin says. "I feel like they're South Dakota."