Meet the Eichs – 'Life is Never Dull!'
Between the two of them, Robin and Justin Eich run six businesses, are involved in multiple side endeavors, and both do a lot of volunteering. That may sound exhausting, but this busy Hartford couple puts a positive spin on it. 
"Life is never dull!" Robin says. "And we are very blessed."  
Settling Down in Hartford 
Robin and Justin both grew up on farms in rural southeastern South Dakota. They met during their senior year of high school, but not on campus: Robin went to Rutland High School while Justin attended Madison High School.  
"Rutland is a very small town," Robin recalls. "So we would go to Madison on weekends. We met there through a mutual friend who ended up being the best man in our wedding."  
They married in 1995 and moved to Hartford six years later — a decision based on their mutual small-town upbringings. Robin and Justin purchased nine acres of land, built a house, and set about raising a family. It's been a whirlwind ever since. 
Bigger Isn't Always Better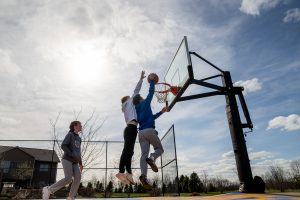 The Eichs have three boys together: Derrick, a senior at West Central; Connor, a sophomore; and Carson, a fifth grader. Justin also has a son, Dylan, who lives in Wisconsin. Derrick will graduate with honors this May from West Central and plans on attending SDSU, majoring in engineering.  Connor plans on also going to SDSU and would like to become a chiropractor.   
The West Central school system, naturally, wins rave reviews from the family. "Each of our classes has about 100 students," Robin says. "It's not too big, but you have a lot of different opportunities. Our athletics are competitive, and our arts program is excellent. Academically, we have many great teachers and many options for classes are offered." 
Robin is an attorney with offices in both Hartford and Parker, with general practice at both offices. She specializes in family law, estate planning and business law. Robin also represents abused and/or neglected children in Minnehaha County to help improve their environment and ensure their parents or guardians take the necessary steps to provide a thriving environment for their children.  
Golden West Provides Strong Connections 
Working with a lot of smaller businesses through her role as an attorney, Robin appreciates the smaller–business aspect of Golden West.  
"There is more of a personal touch to the services that are provided, and the staff at Golden West that we have dealt with have been very accommodating and friendly," she says. "We like Golden West; especially the fact that it's a co-op instead of a big company with main offices in a large city or on one of the coasts." 
Internet service is crucial for the family, both at home and at work. When the West Central School moved to remote learning, the family increased their home internet speed, so all three sons could complete their schoolwork from home.  
With a server system in Robin's Hartford law office and a VPN tunnel to connect the Parker office to the server, fast and stable connections ensure documents can be shared between locations in a timely manner. A surge in Zoom court hearings over the past year makes reliable service more important than ever. Then there's the free wi-fi at Stomping Grounds, allowing customers to work while enjoying their coffee, smoothie, or panini.  
Businesses Keep Them All Busy 
In addition to the law office, the couple owns a three-story building in Hartford at the edge of the golf course, with apartments on the top two levels and commercial space on the main floor. Justin manages the apartments, as well as Stomping Grounds, their coffee bistro. Because there's no such thing as having too many balls to juggle, Justin also has a snow removal business that keeps him, the older boys, and their friends busy when it snows.  
The Eichs own a commercial building in Parker, as well, and rent it to several tenants. Justin has an autobody shop, which has slowed down over the years, but the other business areas keep him busy.  All three boys have also invested a lot of sweat equity in the family-owned businesses.   
"Our boys know very clearly that there is no such thing as a free handout in life," Robin says. "The boys are aware of the need for hard work, determination and meeting what is expected of them with their God-given potential. While it might seem like the boys work a lot of hours and assist with the businesses, there is plenty of time for them to be involved in extra-curricular activities and spend time with friends. They don't go without and have balanced lives." 
In addition to work commitments, the Eichs are active and volunteer within the community and their church. They are also involved in many areas of their children's education and extra-curricular activities.   
It Takes a Village 
Having lived in Hartford for over two decades now, the Eichs have no desire to live anyplace else. There's a popular saying that goes, it takes a village to raise a child, and that's precisely how Robin describes Hartford. 
"I consider it our village," she says. "It's a variety of really good people all raising our children together.  We are grateful that we chose Hartford many years ago and feel that our children are having a great upbringing, partially due to the community in which we live." 
Check out our Meet the Owners Video with Robin & Justin Eich of Hartford: